Geography, Language and Culture
The Maasai are a Nilotic group of people inhibiting the northern, central and southern Kenya and northern Tanzania. They are famous the world over for their distinctive custom, dress, dance and music.   They speak the Maa language and are semi-nomadic pastoralists who have adopted customs and practices such as the age set system of social organization, circumcision, and vocabulary terms.
Maasai society is strongly patriarchal in nature, with elder men, sometimes joined by retired elders, to decide the major matters for each Maasai group. Traditional Maasai lifestyle centres around their cattle which constitute their primary source of food. Massai wealth is measured in cattle and children. For one to be considered well to do, he must own plenty of both and not just one. Cattel are also a method of payment in settling disputes.
One rite of passage from boyhood to the status of junior warrior is a circumcision ceremony performed without anesthetic. They must endure the pain that will lead them to manhood. Even though modern Massai undergo the circumcision with a doctor, the boy must endure the operation in silence as expressions of pain bring dishonor. The Maasai also believe and exercise female circumcision in a ceremony that initiates young Maasai girls into adulthood.
Beliefs
The Maasai people are monotheistic, and their God is named Engai or Enkai. The Maasai believe that at the beginning sky and earth were one, and the Maasai did not have any cattle. Then Engai or Enkai let cattle descend from the sky along a bark rope, and the Maasai received all cattle that currently exists in the world. This belief justifies any act of rustling done by the Massai.
The Massai believe that death is the absolute end and anyone that has died has "completed their journey" and burial is harmful to the dead. As such, the traditional Massai do not bury their dead.
Clothing and Homes
Clothing varies by sex, age and place. Young men wear black for several months after their circumcision. Although, red is a favored color among the Maasai. Black, Blue, checkered and striped cloth are also worn. The cloth used to wrap around the body is the called Shúkà in the Maa language.
The traditional buildings are built using cow dung mixed with mud for the walls which have been structured using sticks and then grass and more sticks for the roof. They fence their villages in a circular fence that protects their families and cattle at night from wild animals.
This video captures the Massai men singing and dancing in traditional attire.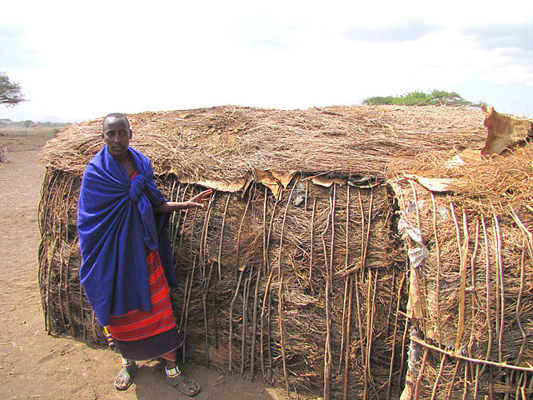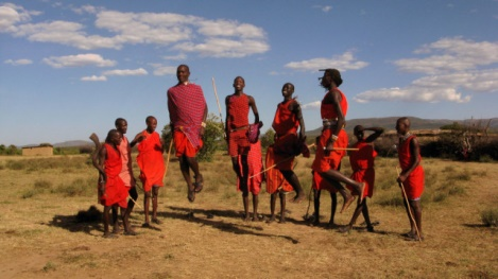 Sources: "Maasai Education Discovery". Maasaieducation.org. Archived from the original on 2007-06-06. Retrieved 2012-02-28.
The Last of the Maasai. Mohamed Amin, Duncan Willetts, John Eames. 1987. Pages 53, 54. Camerapix Publishers International. ISBN 1-874041-32-6