Ethiopia has more than 80 different languages spoken among the population of 112 million. Two of the languages are extinct, five are almost extinct and eight are in danger of extinction. The existing languages are divided into four major language groups. These are Semitic, Cushitic, Omotic, and Nilo-Saharan.
The Semitic languages are spoken primarily in the northern and central parts of the country. These include Ge'ez (an ancient language written from left to right unlike other Semitic languages), the Ge'ez descendent modern Tigrigna, and Amharic (Amharigna) which is the official national language of Ethiopia. Nearly 22 million people speak Amharic as their first language in Ethiopia and it has over 4 million second-language speakers.
The Cushitic languages are spoken in central, southern and eastern Ethiopia. These are spoken largely by the Oromo, Somali , Beja , Sidamo and Afar people. The Oromo language (Afaan Oromoo) is the most widely spoken language in Ethiopia with an estimated 34 million speakers.
The Omotic languages are predominantly spoken between the Lakes of southern Rift Valley and the Omo River. The Omotic languages include the Dorze, Gamo-Gofa, Hammer-Banna and Welaytta languages.
The Nilo-Saharan languages are largely spoken in the western part of the country mainly in Gambella and Benshangul regions. These include the Anuak, Gumuz, Mursi, Nuer, Nyangatom and Suri languages.
Some useful words and expressions:
Amharic
Hello, How are you? – tadias tenayistillign
I am well – dehna negn
Good bye – chau
Ok – ishee
Yes – awo
No – aydelem/ay
No problem – chigir yelem
Beautiful – konjo
Good – tiru
Today – zaré
Tomorrow – Nege
Thank you- ameseghinalehu
You're welcome – minim aydelem
What is your name? – Simih mano (male) simish mano (female)
How much is the bill? – Hisab sintnewe?
Oromo
How are you? – Akkam Jirtuu
How much..? – Meeqa
I am fine – fayya
What is your name? – maqaan ke eenyu
Thank you – galatoomaa
No- laki/miti
Goodbye – Negaa-ti
I don't want – Hin barbaadu
Yes – Heye
No problem – Rakoon Injiruu
Tigrigna
How are you? – Kemayle-ha? (male) Kemayle-hee? (female)
How much? – Kendai?
Goodbye – Daahankun
Ok – hirai
Yes – ouwa
No – yechone
Thank you – yekanyelay
Today – lomo anti
Tomorrow – naga
What is your name? – Shimka men yoe?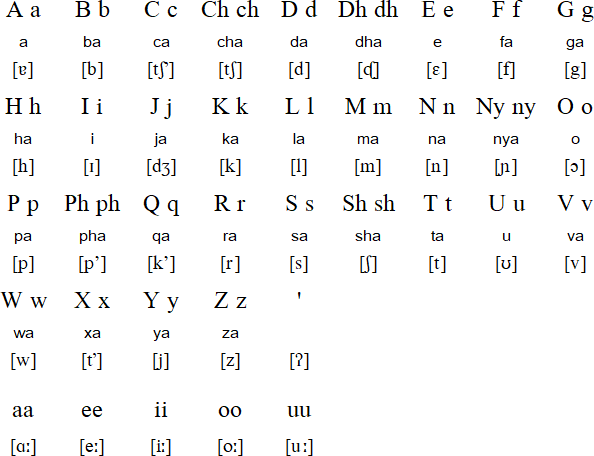 Source: www.omniglot.com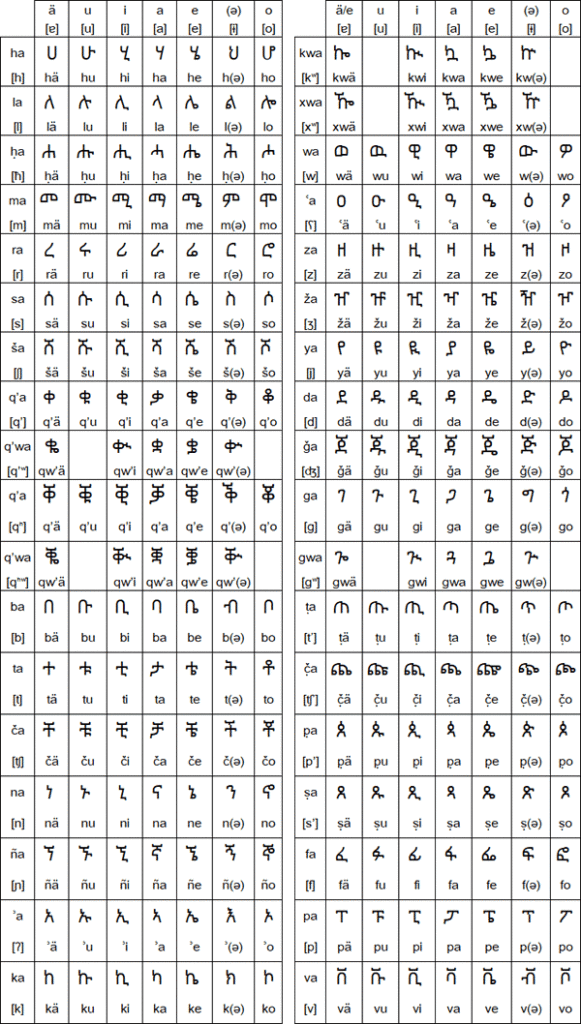 Source: www.omniglot.com
Sources:
http://www.ethiopiantreasures.co.uk/pages/language.htm
Philip Briggs, Ethiopia, The Bradt Travel Guide, Eighth Edition, 2019, published by Bradt Travel Guides Ltd, England, UK, ISBN 978 1 78477 099 0